From discovering new artists to exploring the history of the medium, there are endless opportunities to learn and appreciate the art of photography. Find out why collecting photography is a rewarding and exciting pursuit and learn how to start your own collection and discover the joys of collecting today.
A reference for collectors of art photographs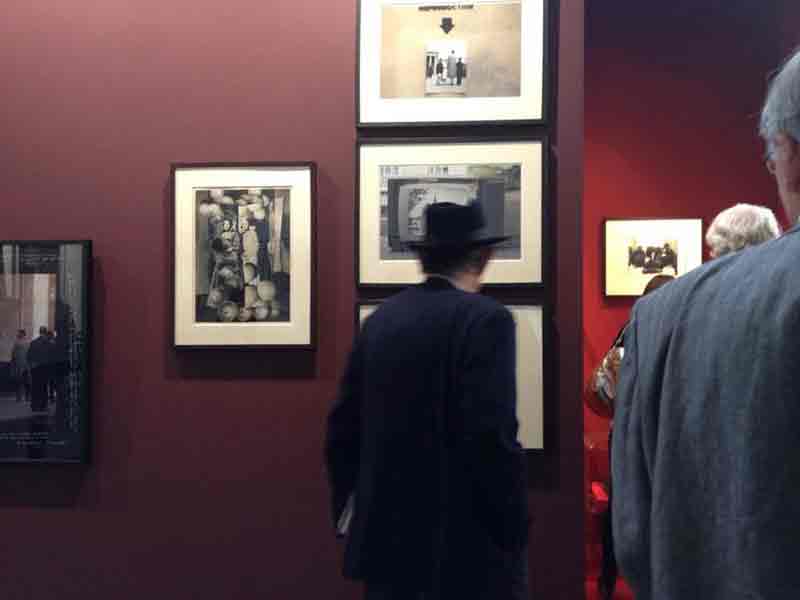 Paris Photo Grand Palais 2011
People have been collecting photographs since the invention of photography in 1826. Why a medium that can be reproduced endlessly nevertheless achieves such great popularity comes down to the simple formula of supply and demand.
The rarer a print the more valuable it becomes. The reality is that people love to collect.
Tips for Starting a Photography Collection
This photo collector's guide is intended as a resource for those interested in acquiring photographs. It is an answer to common questions and a resource for further understanding, knowledge and guidance.
The two most important reasons for collecting fine art photography are the investment potential and the aesthetic decision to own something you are passionate about.
The main task for a collector of photography is first of all to develop a personal taste and to identify the preferred artistic style among the many forms of photographic expression.
Generally speaking, one's own view is exercised through observation and study, as knowledge expands, the focus narrows and becomes clearer.
Curated Fine Art Photography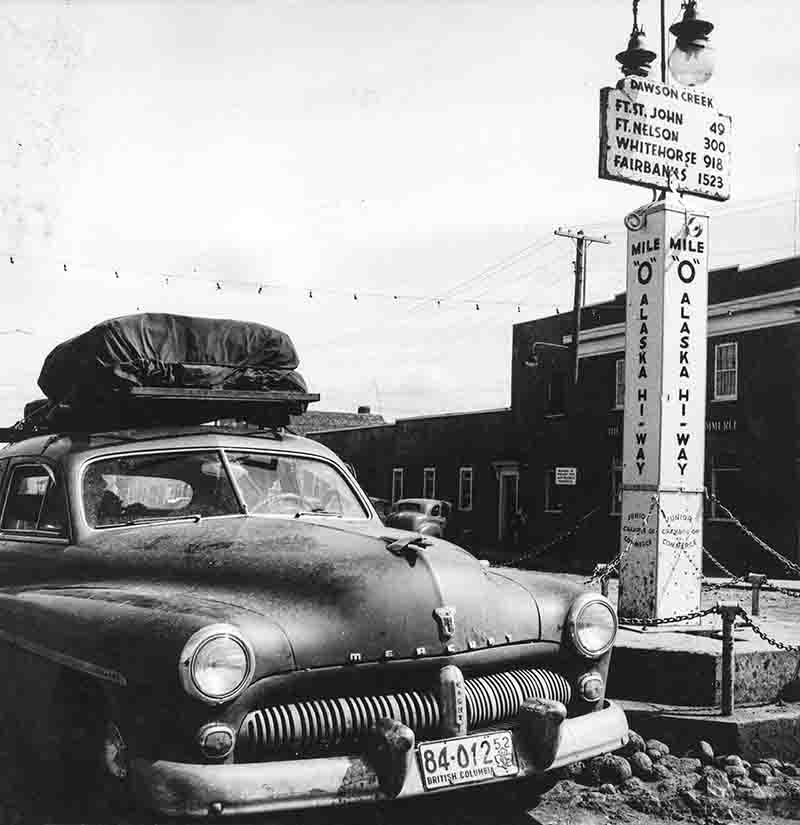 Mercury Eight Sedan
The Alaska Highway was built during World War II to link the Lower 48 states with Alaska. The highway begins in Dawson Creek, British Columbia, and travels 1,387 miles north, ending in Delta Junction, Alaska
---
Photography is an integral part and motor of the art market
In addition to conventional learning methods, social media and the Internet in general offer an excellent resource for art photography collectors. It has never been so easy to track curators, magazines, editors and artists.
Contemporary art doesn't have a hierarchy of genres and media. Therefore, collecting photography is similar to any other type of collecting art.
Collecting photo prints hardly differs from collecting paintings and fine art in general, although there are some peculiarities.
Photo collectors assemble, sometimes over decades, vast volumes of photographs. Eventually, the collection is extensive and consistent enough to be presented to the public in the form of publications and exhibitions.
The price of a photograph depends on several factors
Uzbek traditional dress
Photography is still a relatively emerging and affordable medium in the art market. But the prices and the demand for rare pieces are rising steadily.
Collecting photography is well established in France, Great Britain and the USA, but the rest of the world is catching up rapidly to these markets.
The potential for growth in this field is huge, as photo collecting becomes more and more accepted.
Photography was known on the art market as an affordable, entry-level medium, but has now developed into its own highly regarded branch.
---
Buying fine art photography online has become the new norm on our exclusive art marketplace for works presented by the Bock-Schroeder Foundation.
---
As this is a relatively new business, new definitions are constantly being created. There is no consensus on the exact definition of vintage print and the terms original and modern print are interpreted differently by various people in the business.
It´s all about photography
Hippodrome horse racing track, Moscow
But there is a kind of agreement on many terms. An original photograph is handmade and is authenticated by the photographer during his lifetime or reproduced from the original negative by the heirs or executors of the estate under strict supervision.
In most cases it is signed by the photographer or the estate and is produced in a limited edition.
Before you start, set a maximum amount of money you're willing to spend on a single photo so you can act quickly when you see something you instinctively want to own.
Often, individuals worry about making a wrong choice and prolong their first purchase to the point where the picture is no longer available. Understand that your first purchase is a major step in your development as a collector.
Collecting photography raises many questions

Bock-Schroeder Collection
Is the identity of the artist authentical to the picture? In which relationship does this particular picture stand to art history, to the history of the medium, is it a masterpiece, and what is a masterpiece? Can you predict the future masterpieces of photography?
When was the print made, is it vintage or modern ? Who made the print? Many photographs come in three varieties: true vintage prints; prints made later by the artist, modern prints produced by, or under supervision of the heirs or estates of the photographer. Is a vintage print necessarily better than a contemporary print?
What kind of print is it, what is the process, is it stable? [Platinum always is, early calotypes can continue to fade]. Is the process what this particular photographer did best?
Bock-Schroeder's later platinum prints are probably better than his earlier silver prints, which takes us back to the issue of vintage or contemporary.
Printing styles in the same medium can also change, depending on the available papers at the time of production.
The Thrills and Challenges of Collecting Photography
Praying women, Etchmiadzin Cathedral Armenia, 1956
An unsigned contemporary photograph can be a problem, but unsigned vintage prints are not unusual. What is on the back or the mount helps us date the print [but is not necessarily a guarantee because photographers are known to have sometimes used older stamps on later prints].
Condition of the print is an important consideration, but again, only relevant to what is normal for a particular photographer's work from a particular period.
---
The photo journalist's landscape has to be more than just a pretty picture; it has to make a statement.
---
DON'T MISS OUT!
We'll keep you posted with one free email per week.
---
Includes limited edition print offers and NFT whitelist allocation

Most contemporary photographs, are expected to be pristine; Vintage photographs are expected to be creased or marred [but not in a uniform way which recently tipped off one dealer to a group of fake prints].
19th Century prints are often faded, most valuable examples are already in private collections or museums. The key is to buy the finest example of an image which you can find.
The Fascinating World of Photography Collecting
Inner City Baku, 1956
When collecting pictures it is important to train your eye. If you take it seriously and want to do great, you should spend time discovering photographers you never knew before.
Today you don't have to buy expensive photo books anymore to get wise. There are many incredibly good works to discover. All big names and also many unknown names have Wikipedia entries.
Expand your imagination to be able to articulate what you like and dislike about a particular photo.
There is a revival of collectors who are attracted by iconic and exciting classic black and white photographs of the 20th century, especially undiscovered works
Finding Rare and Unique Photograhs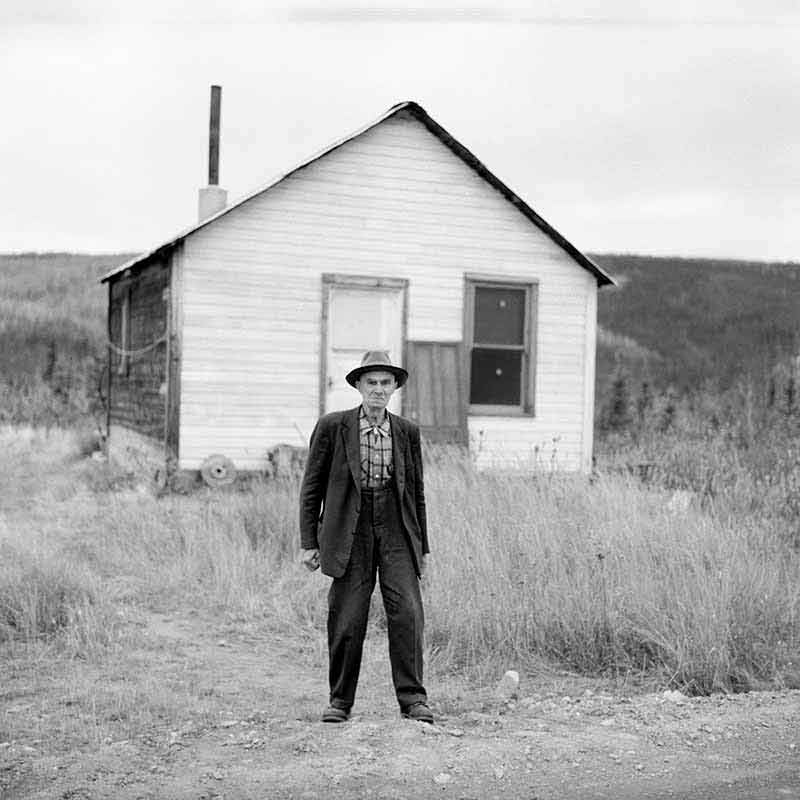 Charly Schick, Golddigger Alaska 1952
Many collectors choose by category or by theme, others structure their collections by style, by period or by technique (for example ambrotypes or daguerreotypes).
The most worthwhile option is probably to focus a collection by specialising on the work of one particular photographer.
This type of collection can dramatically increase its value - as well as the interest of the collector himself - by collecting accompanying documents. Collecting photography will become a passion. A way of expressing oneself.
Through the choice of images and the way of collecting, you will develop in a way that is similar to learning a new language.
WHERE TO BUY ART PHOTOGRAPHS

Bock-Schroeder Collection
The Paris photo fair, which prides itself on being the most important and sole venue for photo gatherings, has been affected by the increasing presence of online photography, which has revolutionised the fine art photography market within a relatively short period of time.
A reorientation is necessary.The purchase of art will shift to online sales. And this is where the established gallerists, who have neglected their Internet presences until recently, face major challenges.
---
With NFTphotography set to continue to impact the art market in 2023, the photography industry is experiencing a much anticipated impulse for a vibrant and ready-to-buy audience.
---
Boudoir Grunge Photography
Boudoir and erotic photography have their own exclusive status in the photography art market.
---
Buying through a web site has become the most important channel today: It is possible to view an essential part of the oeuvre of a particular photographer. Through video conferencing you can get extensive advice. And so to make a purchase with confidence.
As challenging as this new situation is, it brings a significant new opportunity for collectors and artists to connect.
Buying directly from photographers or their estate administrators, even the most renowned, is the best and safest way to acquire art in the current market conditions, and it gives the collector the opportunity to actively participate in the development of the market value through regular purchases and/or commissions.
Building Your Collection: From Novice to Expert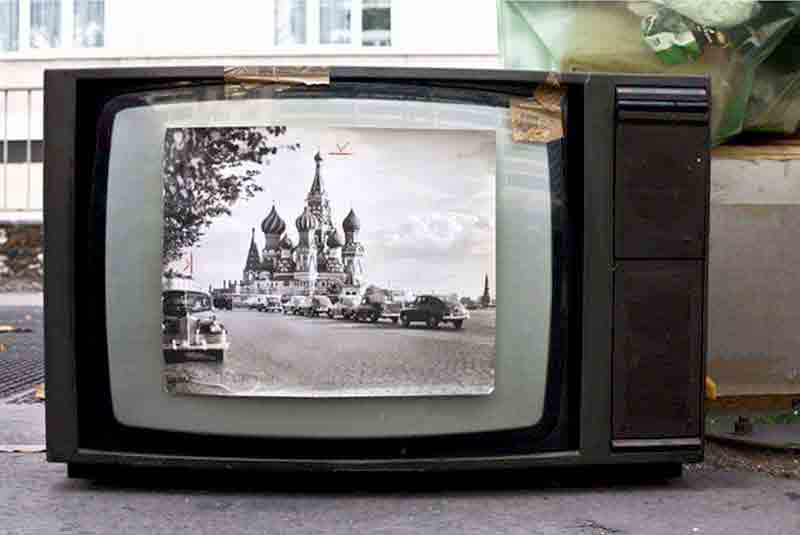 Moscow 1956 by PBS by JBS, Paris 2011
The development in the world of crypto currency has given an important boost to the art market and especially the photo market.
Non-fungible tokens (NFTs) are unique, and thus not interchangeable. For the photo market this means that the time of uncertainty about editions and originality of works is finally over.
Until recently, one had to live with the fact that the authenticity of a photo is as good as the word of the seller.
For the first time in the history of the art trade, corresponding contracts can now be concluded that are irrevocable and can be viewed and understood by everyone in the blockchain.
The Thrills and Challenges of Collecting Photography Seascape Ibiza 2018
The Bock-Schroeder Foundation is the first organisation in its category to incorporate this new technology into the conduct of its business and to release NFT photographs.
This means that every sale of a print, whether a one-off vintage or an edition of a modern print from a negative, will be subject to a binding smart contract in the blockchain.
NFT's will change the market for fine art photography for good.
In addition, the implementation of NFT derivatives creates multiple pathways to attract capital investment and increased exposure to the NFTart and photography market.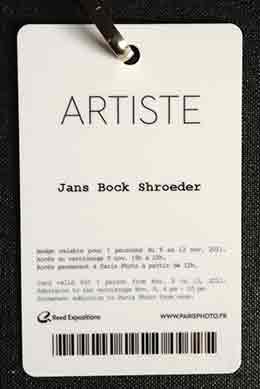 Paris Photo 2011
During the first Paris Photo at Grand Palais, in November 2011, the Bock-Schroeder by Bock-Schroeder project was presented to a large audience for the first time.
---
UNDERSTANDING PHOTO EDITIONS

Bock-Schroeder Collection
A limited edition has a fixed number of prints from the beginning of the print run, and the quantity will never change. Limited edition prints are identified by two figures: the unique number of the print and the size of the complete edition.
The first print in a print run of 3 copies for example, will be marked 1/3, and the last work in that run will be marked 3/3. The edition number of a limited edition photograph is written in pencil on the back directly on the photographic paper.
The more editions of a work there are, the more affordable the work should be; and the more works in the edition sell, the more the price increases, usually in gradual steps.
Collectors are encouraged to find works that are issued in editions of 10 copies or less. The lower the edition, the rarer the work.
World Trade Center 1982
Images published in an edition, are the artist's binding statement about how many prints will be made from that negative. Photography is a reproduced medium.
This means that most of the photos you collect are mechanically produced from a negative that was in the camera, or from a copy of that negative.
Technically speaking, the negative is the original, not a print made from it. An edition indicates how many prints are made from a picture. An edition of 50 and an edition of three are both "limited" but they're not equal in terms of value.
The lower the edition, the more valuable the print. An edition of more than 25 copies or an open edition (with rare exceptions) will never be increased in price.
There aren't any laws preventing a photographer or an estate from simply printing more photos above the number in the limited edition, but if they did, that artist or estate would have ruined their careers
Workers in the Stalingrad Tractor Factory
It is not always known how many prints are available from an image. Most 20th century photographers have not edited their works. A photographer may also decide to sell his artist's print, which is usually considered the first perfect print of a negative, after all prints of an edition have sold out.
The prices of the editions increase as the prints sell and become more limited, or/and when an artist's work becomes more valuable over time.
That does not mean that all prints from the same edition will cost the same when they appear on the secondary market.
As with all collectible items, provenance plays a role in the price of the photograph.
VINTAGE PRINTS

Bock-Schroeder Collection
In photography, the term vintage print refers to a photo-print that was made by the photographer immediately after the roll of film was developed, and the negative was produced. Generally a vintage print is regarded a precious first photo.
For anyone with a passion for history and photography, vintage prints are an exciting way to collect.
When there is a dating issue for a photographic print that is assumed to date from before the mid-1950s, using ultraviolet light can be helpful to check for optical brighteners (OBAs) that were added to the photographic paper roughly at that period. The existence of OBAs could be an indication of a later date of printing.
ORIGINAL + MODERN PRINTS

Bock-Schroeder Collection
Black and white negative processing is the chemical means by which photographic film and paper is treated after photographic exposure to produce a negative or positive image.
Photographic processing transforms the latent image into a visible image, makes this permanent and renders it insensitive to light.
A photographer's original negative, can be reused for years, if appropriately preserved to produce Modern Prints. These posthumous prints are made long after the artist has made the negative.
In order for them to have value they must be printed by someone who knew the photographer personally - in the ideal scenario the photographer's estate, that also owns the copyrights.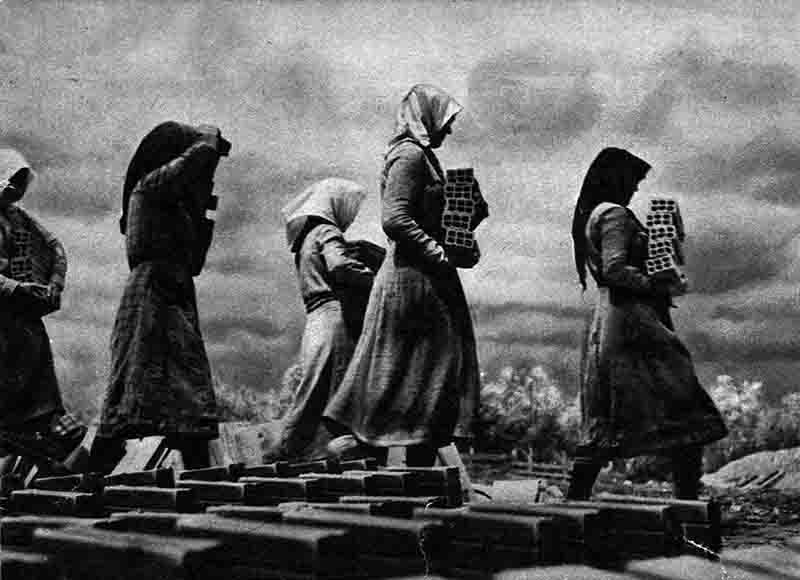 Women in Greece carrying clay bricks
Until the digital age of photography, the standard photographic printing process for black and white prints was silver gelatine.
A paper coated with a thin layer of light-sensitive material, that creates an image when exposed to light. Then developed and fixed in a darkroom.
The standard for color prints is similar, called chromogenic. Serious collectors still prefer these prints.
Digital printing has improved dramatically in recent years and is accepted. In this process, ink is sprayed onto paper to create the image.
---
PHOTO PRINTING PROCESS ANALOG + Digital
| # | Process | Brief description | Dates in use |
| --- | --- | --- | --- |
| 1 | Daguerreotypes | The daguerreotype image is formed directly on a silver plated copper plate which was made light sensitive with a surface coating of iodine vapors. | 1839 - 1860 |
| 2 | Salted paper prints | Salted paper or salt prints are the earliest photographic prints made on paper. | 1840 - 1860 |
| 3 | Calotypes (Talbotypes) | This process uses a paper negative to make a print. Because a negative is produced, it is possible to make multiple copies. | 1841-1860 |
| 4 | Albumen Prints | Albumen prints were the most common type of photographic print made during the nineteenth century | 1850-1895 |
| 5 | Ambrotypes | Unlike the daguerreotype, the image does not have a mirror-like surface. The ambrotype was less expensive to make than a daguerreotype. | 1851-1865 |
| 6 | Tintypes (Ferrotypes, Melainotypes, Melanographs) | The tintype is similar to the daguerreotype and ambrotype, the image is formed directly on a sheet of metal (a positive), it was a cheaper alternative to paper prints made from a negative. | 1856-1930s |
| 7 | Woodburytypes | A woodbury type is a photomechanical process formed by a layer of colored gelatin pressed upon a sheet of paper in a mold. | 1870-1900 |
| 8 | Carbon prints | Carbon prints use a gelatin layer (called a tissue) coated with light sensitive carbon pigment. The tissue is exposed to a negative. | 1870-1900 |
| 9 | Platinum and Palladium Prints | The platinum printing process used platinum and/or palladium salts instead of silver as the light sensitive material. | 1873 - 1920 |
| 10 | Cyanotypes | The cyanotype process uses light sensitive iron salts instead of silver on paper. The prints are characterized by their blue color, | after 1880-1910s |
| 11 | Photogravures | A photomechanical printing process, the print is made from a metal plate like an etching or engraving, using ink to form the image. | 1880-present |
| 12 | Gelatin Silver Prints | Gelatin silver prints are a general term describing the most common process for making black and white photographs since the 1890s. | 1890s-present |
| 13 | Gum Bichromate Prints | A non-silver printing method using paper coated with a solution of gum arabic containing potassium or ammonium bichromate to make it light sensitive, and a pigment to provide image tones. | 1894-1920s |
| 14 | Pigment Print | Archival prints refer to museum-quality pieces that use sophisticated pigment particles to produce high-resolution fine art on paper. The archival photographic printing method is used by art galleries and museums to create outstanding printed works. | 1990s-present |
PROVENANCE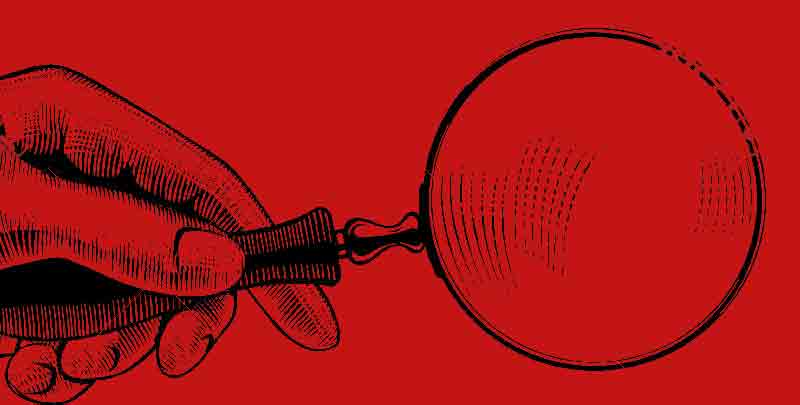 Bock-Schroeder Collection
Purchase from someone who can give you credible data about the print and its provenance. Certificates of Authenticity (or COAs) have the potential to be an effective component of the collecting process.
Though not always required, a certificate offers a guarantee that the work being purchased is authentic.
Certificates of authenticity can provide a useful reference for the title, date of origin, print date, dimensions, edition number and the name and a short biography of the photographer.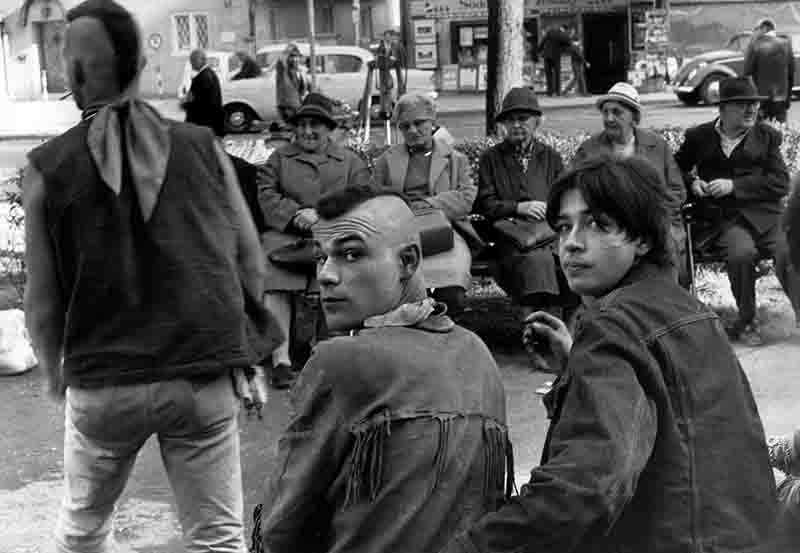 Punks 1980s
An authentic stamp and a signature on the back of the photo help to document the provenance. Provenance is not in itself proof of the authenticity of a photograph, but it can be an essential part of authentication.
The collector should develop a critical eye. One reason to buy from sellers who are known to be genuine, is that the history they tell about the print is reliable.
CARING FOR YOUR PHOTOGRAPHS

Bock-Schroeder Collection
Be it in color or monochrome, an exquisite photograph will have been printed meticulously by the photographer (or the estate) on a special paper to ensure the highest possible aesthetic standards are combined with archival stability.
Photographs are sensitive to both light and humidity, and therefore should be handled with the greatest care.
If you want to avoid damage to the purchased photographs, make sure that they are correctly framed or stored.
Paris Photo Collection 2010-2012
Never cover photographic works of art with plastic, e.g. PVC. Moisture in the air will increase the danger of developing mould. Check the condition of your work of art frequently to determine if any damage has occurred.
Since Photographic Activity Test - in short PAT international standard ISO 18916 - has been established as a procedure for suitability testing of archive materials.
The standard describes a test method in which material samples are brought into close contact with special detector materials at 70 °C and 86 % relative humidity over a long period of time.
The metrological evaluation of the detector materials before and after incubation then provides a statement classified as reliable as to whether a material is suitable as archive material or not.
The PAT has become a standard worldwide. When using materials for photo archiving, it is generally important to ensure that the materials have passed the P.A.T. test (Photographic Activity Test - ISO 18916).
---
PHOTOGRAPH COLLECTOR's CHECKLIST:
If you find a picture that strikes you, and that you can afford: Buy it! Collecting photography is about taking one-time opportunities.

Make your purchase only from reliable sources that can give you accurate information about the print and its provenance.

Editions over 10 are decoration and not an investment. Be conscious of the aspiration of your collecting.

Inform yourself in detail about the care and storage of your Photo Prints.

Photo fairs are dead. At least for the moment. Use the excellent resources of e-commerce and online art galleries to find out about available works.

Take your time for research. All relevant artists have a web page and a Wikipedia entry. It is recommended to buy with concept and insight.

Request a certificate of authenticity from the person you purchased the photograph from.

Collecting photography experiences a huge growth potential in the world of the international art market. Photography collectors today have an almost unlimited selection of first-class photographs to choose from.
---
Investing in Photo Art
Due to rising inflation and the shortage of oil and gas, both raw materials needed to produce prints and paper, collecting fine art photography is rapidly becoming a luxury.
This happens at a time when digital assets are gaining prominence in the collector's market for fine art photography.
To truly protect one's capital from deterioration, it is advisable to invest in both physical (prints) and digital goods (NFTs).
Photography as a branch of the contemporary art segment has been increasingly growing in popularity over the past few years. A characteristic feature of this is transparent edition management.
Investing in photo art by established artists can be compared to buying a blue chip in the stock market: Here, opportunities and risks are fairly proportionate to each other.
Besides attractive returns, investments in photographic art offer a further advantage. Photo art is largely uncorrelated to virtually all other forms of investment.
Fine art photography is an excellent asset diversification tool and offers a number of tax advantages.
For a broader diversification of assets, photographic art is an attractive addition. The extensive independence from the capital market, international recognition as a tangible asset and the consistently above-average performance are additional arguments in favour of an investment in photographic art.
The Bock-Schroeder Collection
There are great moments in photography. When the camera encounters the historical moment, when in an instant the universal experience becomes the picture; without violating the momentary situation in the process of photographing.
State Hermitage Museum, 1956
---
5 Reasons to collect Bock-Schroeder
Provenance: An important aspect in the world of art photography
Uniqueness: The sale of the photos is strictly regulated
Originality: The pictures go on the market for the first time
Quality: All originals are handmade gelatin silver prints
Investment: The choice to own art is an investment
---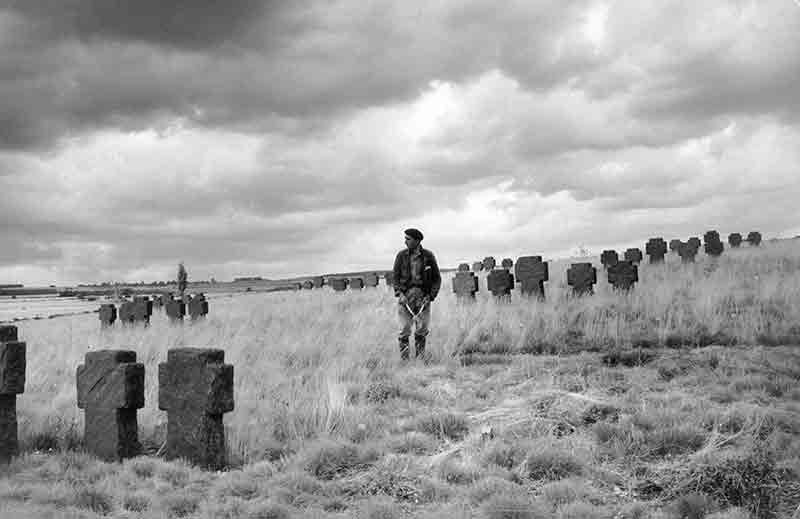 Military Cemetery Hautecourt, 1960
Among the photographs offered for sale are Vintage Prints made by Peter Bock-Schroeder in the 1950's/60's, as well as limited edition Modern Prints, printed from the original negatives in museum quality by Jans Bock-Schroeder (son of the photographer, and managing director of the Bock-Schroeder Foundation).
They bear the edition number, print date, the PBS copyright stamp and the signature of Jans Bock-Schroeder verso.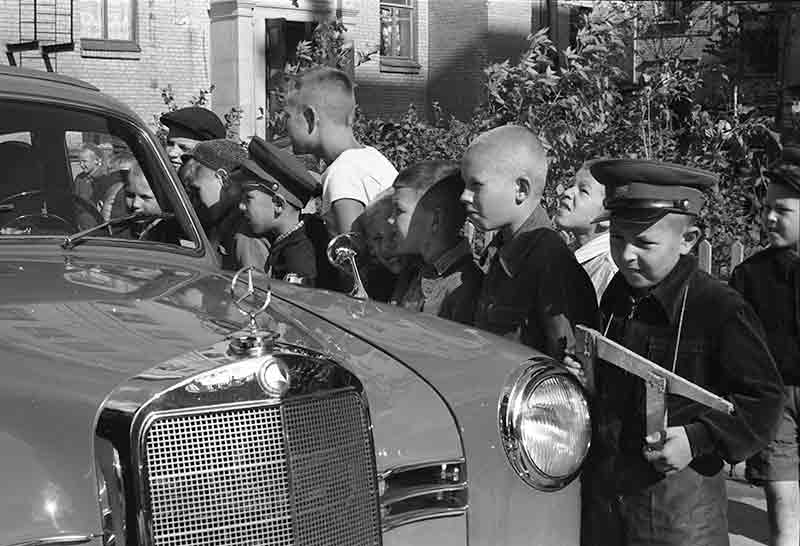 Playing children in Moscow, 1956
The exclusivity of this collection and the time of sale make a purchase particularly interesting. In contrast to the works of many other master photographers whose works have been on the market for years and whose genuineness cannot always be determined with accuracy.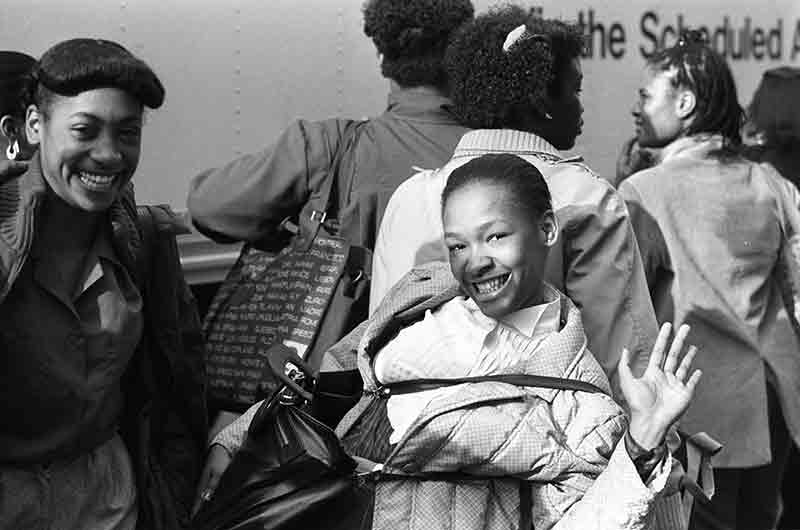 New York City, 1982
The prices of the items in the editions change with each sale, as they become progressively more limited. The more limited, the more expensive a printed fine art photograph from an edition will become.
Along the Silk Road in Baku, 1956
The acquisition of a new original work shapes your perspective, your inspiration and your consciousness as a collector. Photography and its associated potential in the visual cultural context has never been stronger and more important than it is today.
Peru 1952
Collectors play an essential role in this development. The Bock-Schroeder Foundation is committed to assist collectors through every aspect of this journey.
---
The Bock-Schroeder Foundation goes Bitcoin
Since buying photographs from the Bock-Schroeder collection is not only an aesthetic decision but also a valuable investment, it is a logical consequence that from now on all prints by Peter Bock-Schroeder are also available in the cryptocurrency Bitcoin.
---
Visit the Bock-Schroeder Foundation Online Gallery
---
FAQ about the art of collecting photographs
Photography is one of the best and most interesting mediums to enter the art market. You can buy masterpieces and high quality works for a relatively small amount of money. If you plan for the long term, buying photography is an excellent investment.
Search for online art galleries. Filter the results by quality of the offer. Editions over 10 per edition are to be understood as decoration and not as investment. Arrange a personal meeting or a meeting via electronic media, and get detailed information about the photo you want to purchase.
Limited editions are made from the original negative. The Bock-Schroeder Foundation recommends not to buy a photograph from an edition larger than 10.
The term vintage print was invented by the newly emerged photo art market. These are prints that photographers made shortly after the exposure of the film. The purpose was mostly to send the pictures to the editorial offices of magazines for publication. Photographers have also always made enlargements for themselves. For a better understanding of their work, and for sale. Prints must have been printed before 1970 to be included in the category of vintage prints.
The Bock-Schroeder-Foundation is the sole representative of the works of Peter Bock-Schroeder and thus has unique and exclusive access to these rare and unique works. The Bock Schroeder Foundation collaborates with public, corporate and private art collections around the world. In addition to renowned and distinguished art collections, the Bock Schroeder Foundation also advises individuals and collectors who are in the process of establishing a collection.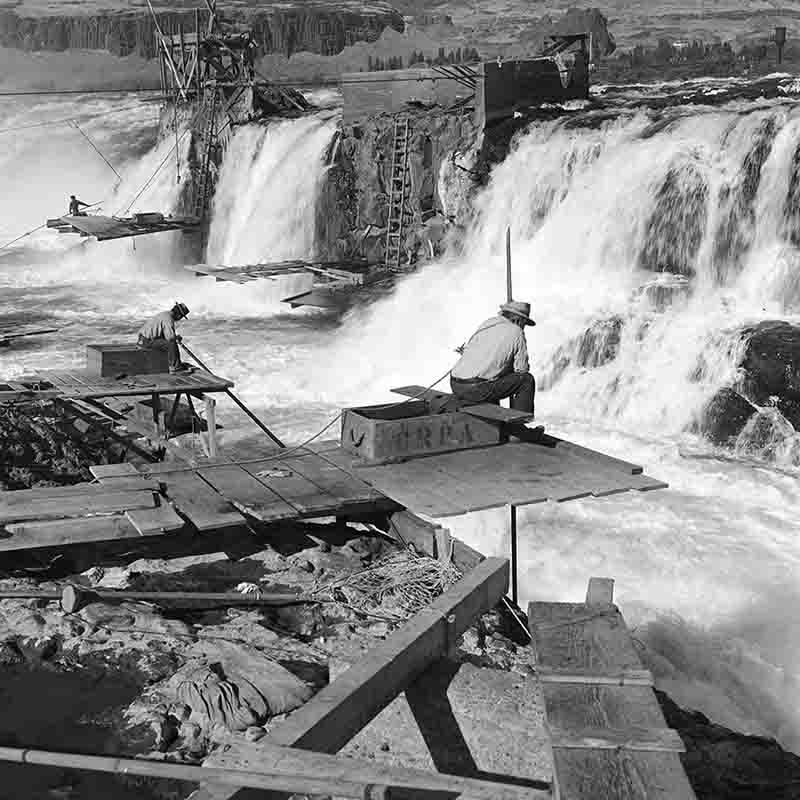 Celilo Falls 1956
An NFT (non-fungible token) is a unit of data stored in a digital ledger called the blockchain that certifies the uniqueness of a digital asset, making it non-exchangeable. NFTs are employed to represent objects such as photographs.
---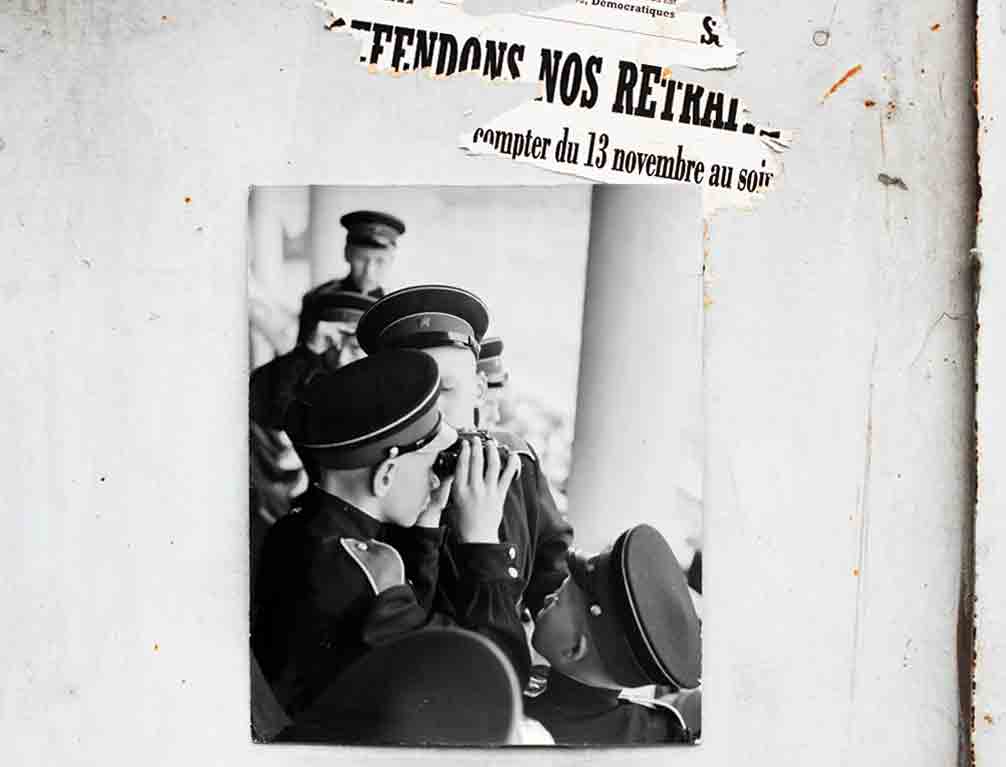 Moscow 1956 by PBS by JBS, Paris 2011
By re-photographing existing images in a redesigned mode, he deliberately adopts and copies stylistic elements and makes them his own in a revamped visual process.
---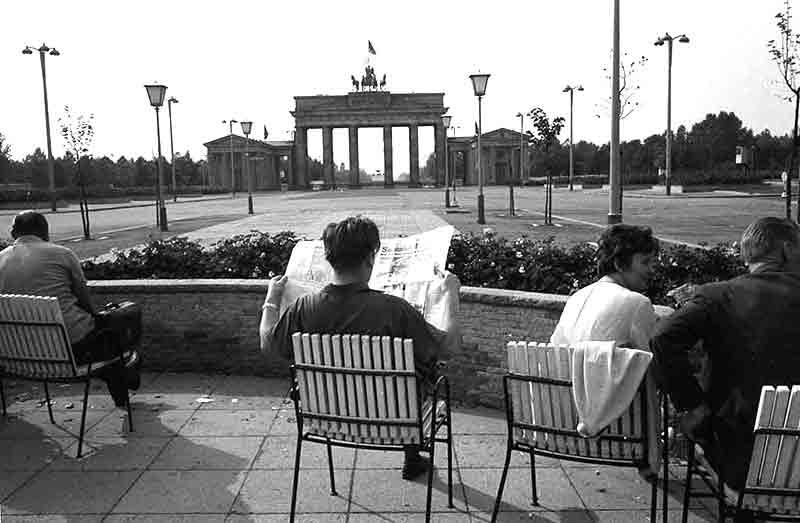 Brandenburg Gate, Berlin 1960
The era of the great masters is over. What remains are the gems of the analog years.
---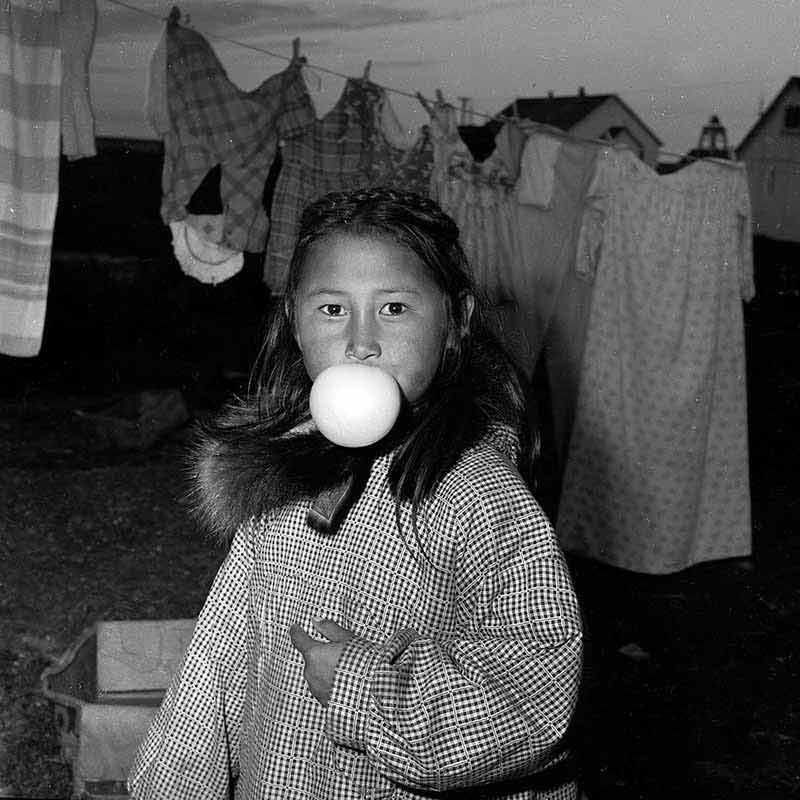 Inuit Girl in rural Alaska, 1952
Great pictures of the 20th century
---
Azerbaijan, 1956
A street you see every day of your life and that never seemed to be of any particular interest can suddenly become a fascinating motif if you really look at it closely
---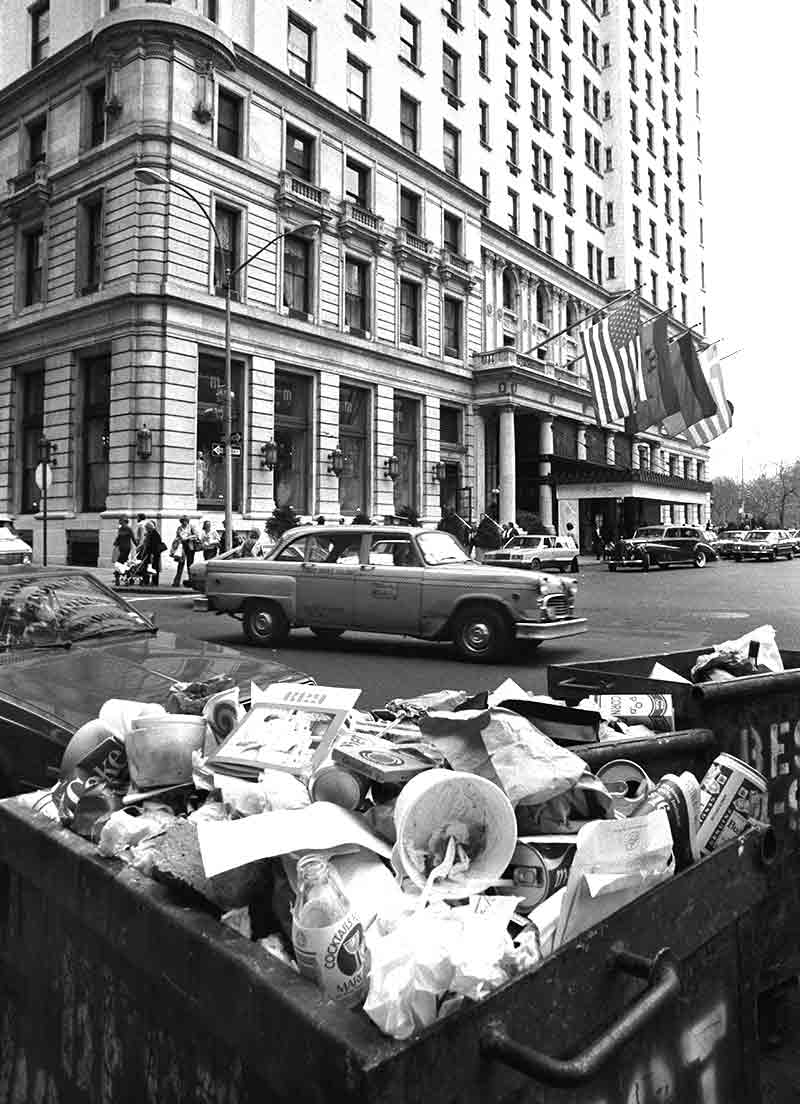 Waldorf Astoria Hotel, NYC
The Bock-Schroeder New York Edition Box is both a tangible asset as well as a rare art acquisition.
---
Related Articles