Looking at photos has become one of the most elementar activities, a reality that has to do with the fact that today everyone is a photographer. People everywhere take good pictures, we live in the period of depiction. The era of the great masters is over. What remains are the gems of the analog years.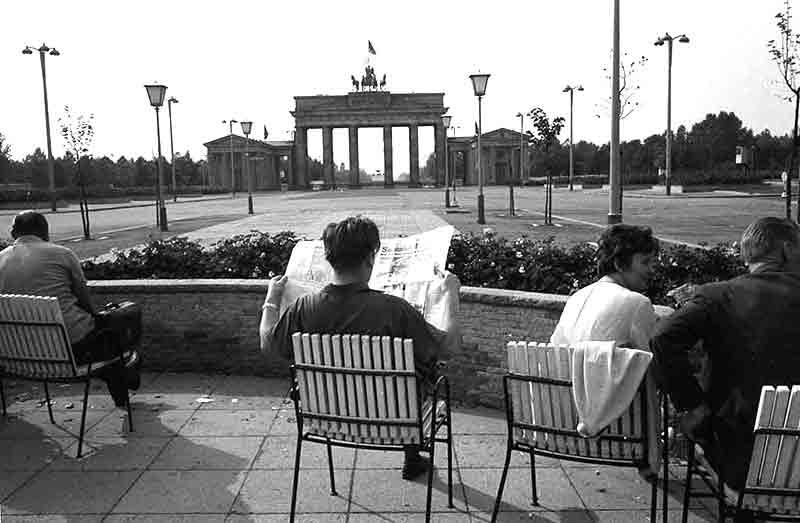 Brandenburg gate, Berlin 1960
The photo illustrated age began, when in 1826, with a simple view of asphalt (the result of several hours of exposure) Frenchman Nicéphore Niépce succeeded in capturing images with his Camera Obscura.
The democratisation followed as early as 1888 - thanks to Kodak - with the introduction of an instrument that was affordable for (almost) everyone. Now it was possible for people all over the world to freeze the moment.
After a long period of arguing back and forth whether the new invention was art or science or perhaps the devil's tool, a new type of photographer emerged, partly with the help of those amateurs, who had helped the new medium out of the "tight corset" of just reproducing the existing. The PHOTO REPORTER was born.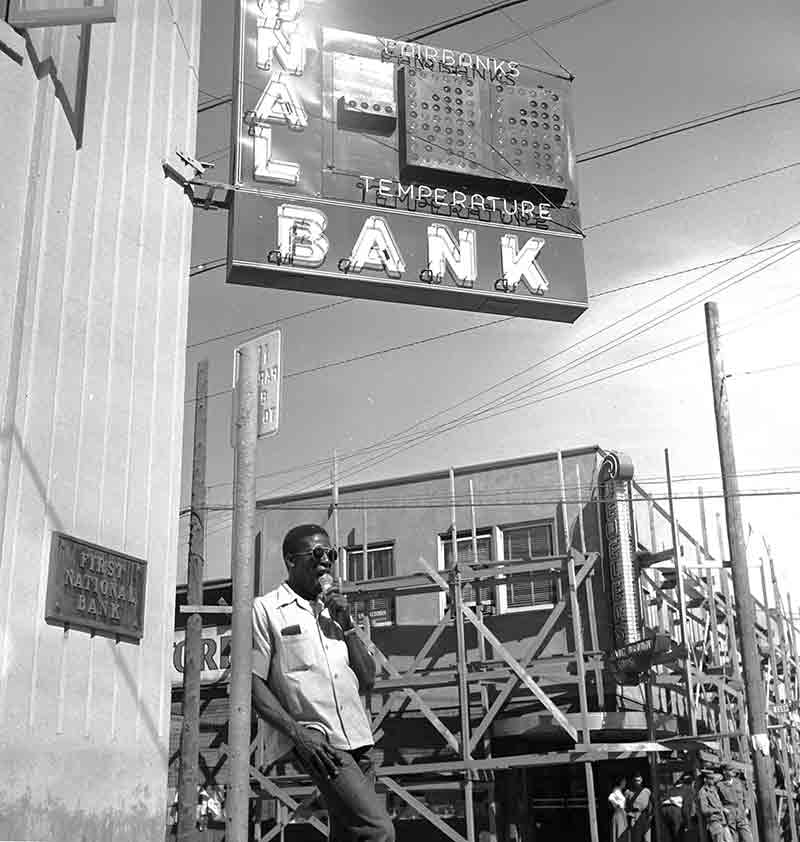 Anchorage, 1959
During the last moments of that time, I grew up as the son of a photographer couple. Cameras, lights, and all the other equipment and photographic materials, were a natural part of my life.
I remember times when there were more AGFA, ILFORD and KODAK film rolls than food in our fridge. The smell of dark room materials and chemicals still brings me back to my childhood. I remember watching my father at work in his studio, organising, looking at his negatives with a magnifying glass on the light table. In my younger years, he didn't talk much about his job. When he noticed me sitting on the steps, observing him, he would say things like: "One didn't take such bad photos".
This new profession did not care if it was considered art. The medium had become faster. Now it was all about reporting, and telling stories with pictures.
It was a time before television, and it was a time before the internet. People got informed and entertained by reading, and looking at picture magazines.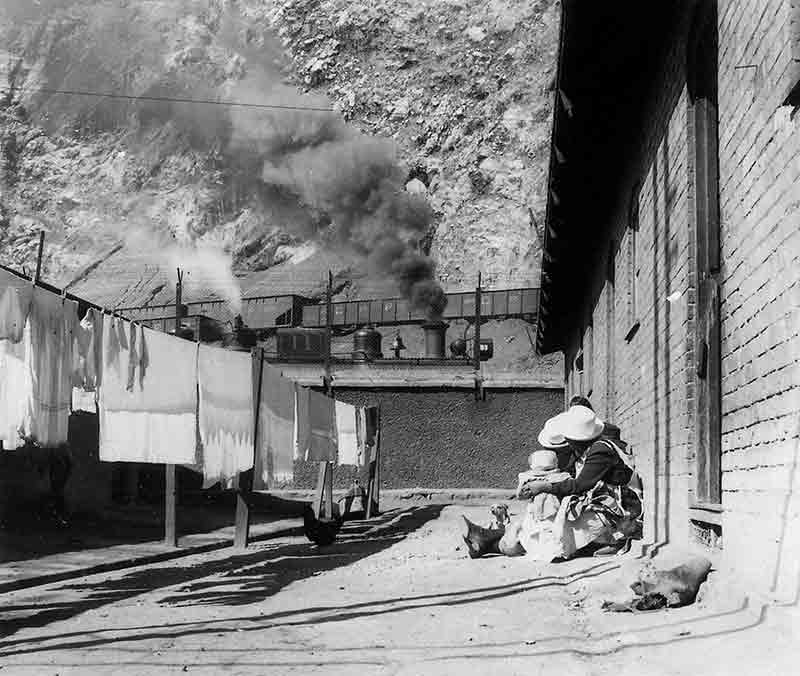 Peru, 1954
I think that during this time he often wondered, what his career would have been like if he had stayed in the USA, where the first wave of enthusiasts and connoisseurs had established the fine art photography market, and had transformed it into a successful, lucrative and much-discussed art form.
Photography owes much to the early days of its discovery through high class art directors, courageous gallerists, dealers, editors, collectors, art critics and most of all an open minded and curious audience.
Moscow, 1956
I learned to read pictures at an early age. All over our house Gelatin Silver Prints were decorating the walls. There were magazines on every table. Growing up in the house of professional photographers was exciting and informative. I was privileged to have constant access to publications like Life, Twen, Stern and Playboy (which I actually also read).
Sochi, 1956
I remember one image in particular. A beautiful girl on the beach in Sochi. She was my "first big love", (although only in my imagination) and it is because of her, that I had an affinity for people from the soviet union from an early age.
I was present, and sometimes even had to assist when my parents were working in the studio. I experienced at first hand the high art of portraiture, which my mother has mastered perfectly to this day and which my father only achieved if he was genuinely interested in the person in front of his lens.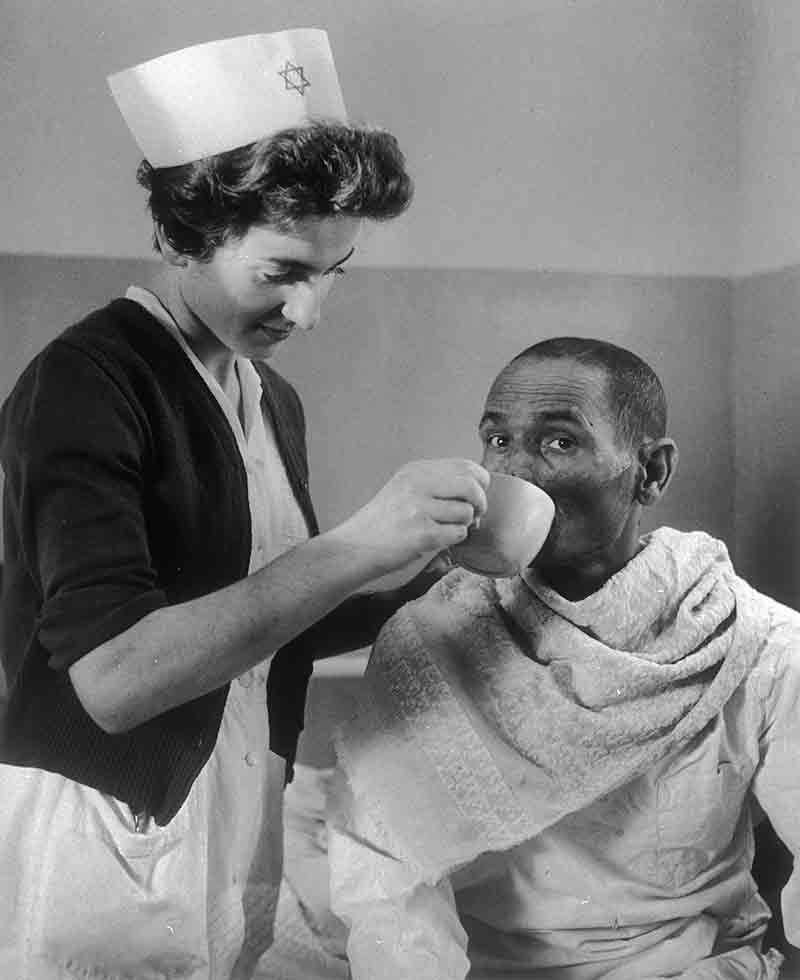 Israel, 1956
---
Q: Did Peter Bock-Schroeder have interests other than photography?
His work was his life, and his main interest. Everything he did revolved around photography and photojournalism. After having witnessed the lies and terror of a dictatorial system in his own country, truth, honesty and humanity were vital for him. Photography was his way of sharing his views. He was interested in politics and history, he loved traveling, the outdoors, meeting people, discussing politics and the ways of the world.
He was an avid reader of books, newspapers and magazines. He loved women, and I would say that before he met my mother, he was certainly a womanizer. He dressed classy and since he had lived in the U.S. he preferred to wear Brooks Brothers clothes. Nevertheless, he was a modest man and cared for the things that he owned. He liked sports, one of my best child hood memories is, when he woke me in the middle of the night to watch "The rumble in the jungle".
I wouldn't go as far as calling my father vain, but he did take good care of himself. He looked after his family and made sure everybody was alright. "Life" is the one thing I can think of, other that photography, that interested Peter Bock-Schroeder.
Q: Equipment: What kind of camera and film was he using then?
His main camera was a Rolleiflex. He also had a Leica and since the late 1960's worked with Hasselblad. He was using Agfa Film. The common film speed in the 1950's was 25 ASA and 50 ASA. He told me once that it was quite a sensation for photographers when the 100 Asa film became available.
Q: How would you describe Peter's home? (For some photographers it is a haven; for others it is a place to wash their clothes and go out again! Where did he live? If you don't mind my asking, was your mother interested / involved in his photography?)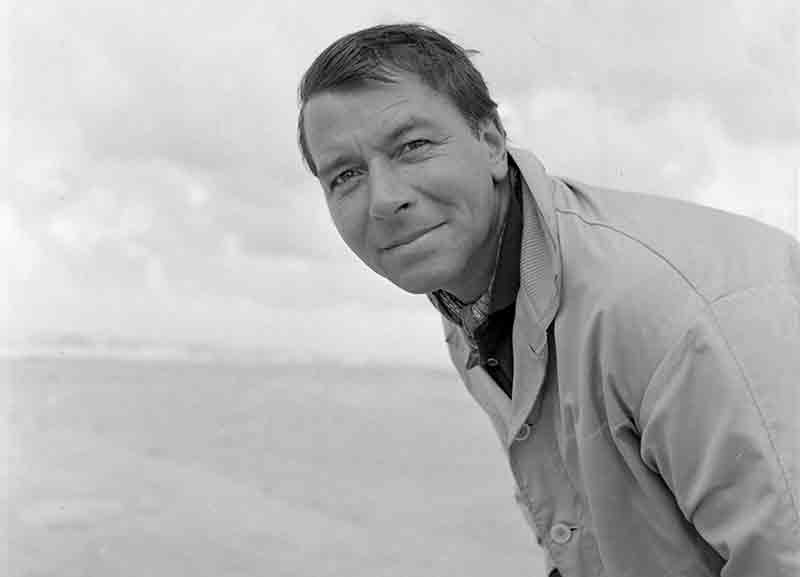 Peter Bock-Schroeder, 1965
For Peter Bock-Schroeder home was definitely a haven. After having spent the first part of his life without a family, he enjoyed very much the comfort of his home. When my father met my mother Ingeborg Bock-Schroeder, in 1957 on a train in Munich, he asked her if he could take her picture. She replied that she was a photographer too, and did not need any help in taking pictures. Over the years they have worked together on many project. They were a couple made in heaven.
Q: How did you get started with working on the Archive ?
When my father passed away in 2001, I moved to London to pursue a career in fashion photography. Things went well and the change of place also helped me to overcome my father's loss. One day I was on my way to a Model Agency and I spotted a photo gallery. I went inside and saw all these photographs that reminded me of my father's work. That's when I decided to promote his work.
Growing up in a photographer's family, I had experience with the technical side and of course the artistic side of the medium, but I didn't know anything about the market for fine art photography. I was learning by doing. In 2004, I was offered a book deal with the german publishing house Steidl, a monograph about my father's work. But I rejected the proposal. I told Steidl that I didn't want to burry my father even deeper with a heavy "Monster Book", so he kicked me out of his office.
I visited the Paris Photo Fair, at that time still in the Louvre. I started contacting Gallerists and Photo people. Quite a challenge because back than nobody would look at web sites. Most Gallerists, especially the french didn't even have email. For a about 3 years I travelled with a box of Vintage Prints. Eventually I met most of the leading people in the business. I went to London, New York, Los Angeles, and Houston. It was a interesting experience, but I soon realised that I had to do it my way. I put myself in the position of a collector. It makes sense and is more special to deal with the son of a photographer, who lives and breathes and most of all understands the work better than anyone, than to buy from a Gallerist who has no connection, other than being a salesman.
In 2009 I finally moved to Paris, the capital of photography. Here I had the opportunity to learn everything about the photo business. It was an amazing time, and the best "school" I could have wished for.
Q: Where is Peter's work being shown this year?
Due to the pandemic everything has changed. I had planned to publish a book in Russian and to spend some time in Moscow. Now I focus on publishing and selling online, and coming up with new ways of presenting. I have set up my own photo lab/darkroom, so I can do all printing inhouse.
Q: Tell us about prints and how our readers can purchase them:
Vintage and Modern Prints are available in the Bock-Schroeder online Shop. Most clients request an additional meeting online, which I really enjoy doing. It helps me to understand better the needs of the collector, and for my clients it's a good way to get a more personal insight in the work of my father, and my work with the Bock-Schroeder Foundation.
When I first started to produce Prints (originals from the negatives) the idea was to do editions of 10, but I soon realised it was the wrong approach. In my opinion photography needs a very low and restricted edition. Maximum 3 prints per negativ. Vintage prints from the Bock-Schroeder collection are unique.
Q: One Story: We often find that there is one personal story that may / may not have anything to do with photography per se, but is unforgettable for the photographer. Do you know of any such story – for Peter or yourself – that is a result of his life in photography?
Having survived the Second World War and the Nazi Regime had a huge impact on him and his work. When he returned to Berlin in June 1945, there were only ruins left. His initial thought was, that there will never be another war.
---

---
Since Peter Bock-Schroeder's death on February 19th 2001, Jans Bock-Schoeder is the head of the Bock-Schroeder Foundation and is responsible for the production, preservation and distribution of his father's photographic estate.
In addition to marketing and presenting Peter Bock-Schroeder's photographic legacy, the Bock Schroeder Foundation also provides and distributes the works of Jans Bock-Schroeder. Works are classified and categorised into 20th and 21st century photography and printworks.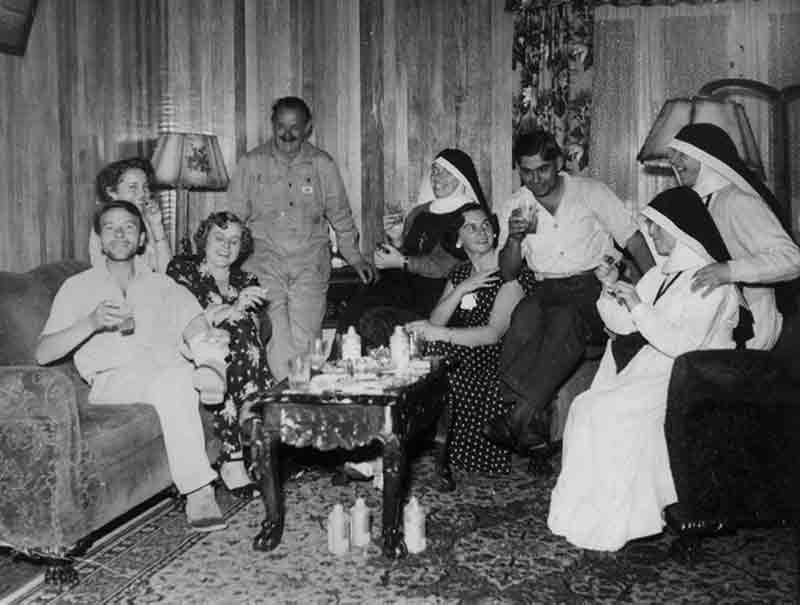 Peter Bock-Schroeder, Peru 1954
After being lost in the jungle of Peru for three days, Peter Bock-Schroeder reached the Catholic Mission, "Heart of the Amazon" and got drunk with the Nuns and personel.
---
Related Articles