Dublin inner city vagabond
up:date June 12, 2022 by Bonn Brandt
Dublin is a city that is rich in characters and personalities. One of them is Johney, a vagabond who lives on the streets. Here at the "middle line" of Dublin, where the river Liffey divides the Northside from the Southside, he has his first pint of beer in the morning.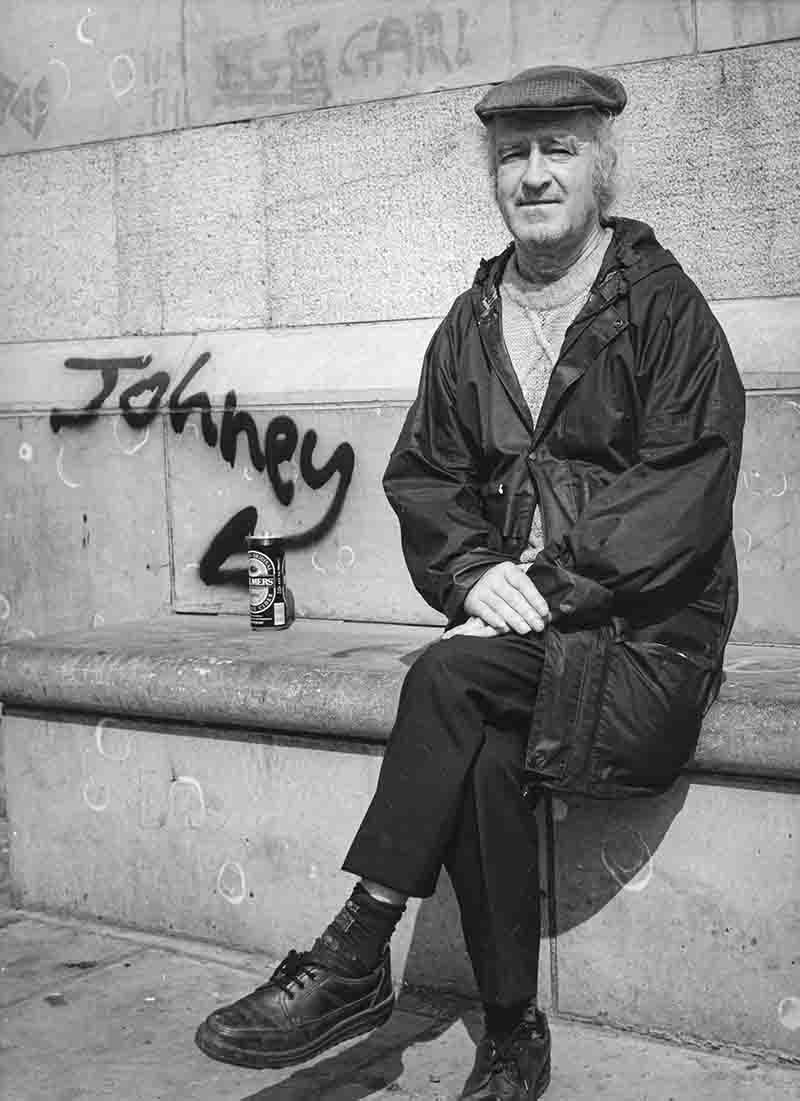 Dublin inner city vagabond
Inner City Dublin
The location is an important geographical landmark in the city. The most central point of this line is in the O'Connell Bridge. Commonly, this area is referred to as Dublin's Inner City.
The ephemeral Celtic Tiger
Not everyone has benefited from the advantages of the so-called Celtic Tiger. When the Irish economy boomed in the late 1990s, for many time stood still. Prior to this period of rapid economic growth, for more than two centuries Ireland was one of the economically more vulnerable countries of Europe. The Celtic Tiger eventually went from boom to bust with rapid momentum.
Dublin Limited Edition Portraits
The photo was taken on a Sunday morning in May 1997 in Dublin. Photographer Jans Bock-Schroeder who lived in the Irish capital Dublin during that time explored the city with his Rolleiflex and took a series of timeless portraits of Dublin's locals.
---
---
Limited Edition - Original
Jans Bock-Schroeder
Edition 1/3
Negative Date: 1997
Print Date: 2022
Size: 40 x 55 cm
Provenance: Bock-Schroeder Foundation
Verso: Copyright stamp, Signature
---
---
Signed by Jans Bock-Schroeder.
Verso: Copyright stamp, Signature, Edition-Number 1/3
Printed from the original negative
Analog Handprint in museum quality on barytha paper
Price includes tax, shipping, packaging and insurance.
Delivery takes about 14 workdays.
In-Person and remote viewings by appointment.
---
FAQ
In photography, the term vintage print refers to a print that was made by the photographer immediately after the roll of film was developed and the negative was produced. Generally a vintage print is regarded a precious first print.
Originals, Modern Prints, are highly sought-after collectable photographic prints. They are printed in limited edition from the original negative. Every analog hand print is certified and editioned. The limited edition notice guarantees the uniqueness of each print.
Unique: One of a kind piece, created by Peter Bock-Schroeder (1913-2001)
Limited edition: Original works created in limited edition, supervised by Jans Bock-Schroeder.
Made-to-order: A hand made print that is made-to-order.
Shipping cost worldwide, packaging and insurance for your artwork, is covered by the Bock-Schroeder Foundation.
After you have completed your online order, you will receive an order confirmation by email. When the work is shipped you receive a second mail with the tracking number that allows you to follow your order's status as well as the invoice for your ordered item.
Your online order is secured using modern SSL encryption. This way, we meet the standards for modern online purchases and always guarantee you the securest of transactions.
We work exclusively with certified shipping partners. These vary depending on the size of the art you order and the country it is being delivered to. DHL, UPS, Hermes, DPD, FedEx, and GLS are among the companies we trust.
Delivery takes about 10 workdays.
Do not hesitate to contact us at any time with any questions: about payment, delivery or anything else. Contact: +49 174 450 64 69 | mail (at) bock-schroeder.com
The Bock-Schroeder-Foundation is the sole representative of the works of Peter Bock-Schroeder and thus has unique and exclusive access to these rare and unique works. The Bock Schroeder Foundation collaborates with public, corporate and private art collections around the world. In addition to renowned and distinguished art collections, the Bock Schroeder Foundation also advises individuals and collectors who are in the process of establishing a collection.
---
Photo Collector's Newsletter
A monthly newsletter for photography collectors
---
---
Related Articles