Shadow of a Cowgirl
up:date June 12, 2022 by Bonn Brandt
A shadow occurs when light is blocked by an object or person so that it cannot reach a surface. The position of the object and the type of light determine the shape, extent, and intensity of a shadow.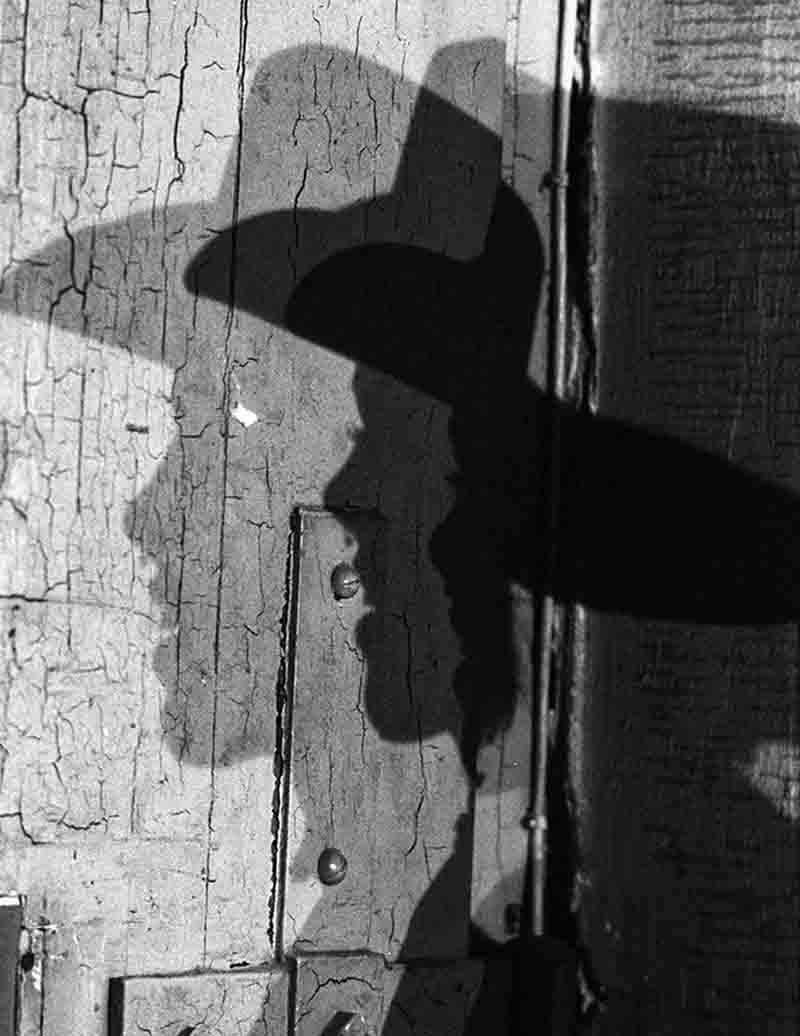 Cowgirl Shadowplay
Shadow photography
To achieve unique results, both composition and an understanding of technical settings are prerequisites. Concealed elements create tension and a sense of drama in this composition.
Code of the American Cowgirl
The Cowgirl must never shoot first, or take unfair advantage. She must never go back on her word. She must always tell the truth. She must be gentle with children, the elderly, and animals.
Cowgirls contribute significantly to the Western way of life and culture.
Live each day with courage.
Always finish what you start
Be tough, but fair
When you make a promise, keep it
Ride for the brand
Know where to draw the line
Spirit of the American Cowgirl
The silhouette gives this image by fashion and art photographer Jans Bock-Schroeder a mysterious touch that allows the viewer to form their own individual idea of this scene.
---
---
Limited Edition - Original
Jans Bock-Schroeder
Edition 1/3
Negative Date: 2001
Print Date: 2022
Size: 40 x 50 cm
Provenance: Bock-Schroeder Foundation
Verso: Copyright stamp, Signature
---
---
Signed by Jans Bock-Schroeder.
Verso: Copyright stamp, Signature, Edition-Number 1/3
Printed from the original negative
Analog Handprint in museum quality on barytha paper
Price includes tax, shipping, packaging and insurance.
Delivery takes about 14 workdays.
In-Person and remote viewings by appointment.
---
FAQ
In photography, the term vintage print refers to a print that was made by the photographer immediately after the roll of film was developed and the negative was produced. Generally a vintage print is regarded a precious first print.
Originals, Modern Prints, are highly sought-after collectable photographic prints. They are printed in limited edition from the original negative. Every analog hand print is certified and editioned. The limited edition notice guarantees the uniqueness of each print.
Unique: One of a kind piece, created by Peter Bock-Schroeder (1913-2001)
Limited edition: Original works created in limited edition, supervised by Jans Bock-Schroeder.
Made-to-order: A hand made print that is made-to-order.
Shipping cost worldwide, packaging and insurance for your artwork, is covered by the Bock-Schroeder Foundation.
After you have completed your online order, you will receive an order confirmation by email. When the work is shipped you receive a second mail with the tracking number that allows you to follow your order's status as well as the invoice for your ordered item.
Your online order is secured using modern SSL encryption. This way, we meet the standards for modern online purchases and always guarantee you the securest of transactions.
We work exclusively with certified shipping partners. These vary depending on the size of the art you order and the country it is being delivered to. DHL, UPS, Hermes, DPD, FedEx, and GLS are among the companies we trust.
Delivery takes about 10 workdays.
Do not hesitate to contact us at any time with any questions: about payment, delivery or anything else. Contact: +49 174 450 64 69 | mail (at) bock-schroeder.com
The Bock-Schroeder-Foundation is the sole representative of the works of Peter Bock-Schroeder and thus has unique and exclusive access to these rare and unique works. The Bock Schroeder Foundation collaborates with public, corporate and private art collections around the world. In addition to renowned and distinguished art collections, the Bock Schroeder Foundation also advises individuals and collectors who are in the process of establishing a collection.
---
Photo Collector's Newsletter
A monthly newsletter for photography collectors
---
---
Related Articles