In 1950 Vera Maxwell asked her friend and companion Peter Bock-Schroeder to take photos of her fashion. Bock-Schroeder, who was not particularly interested in fashion photography, suggested that the models should be staged outdoors on the streets of New York City in a natural surrounding. An unusual idea for a fashion shoot for that time. The result is a series of unique fashion photos.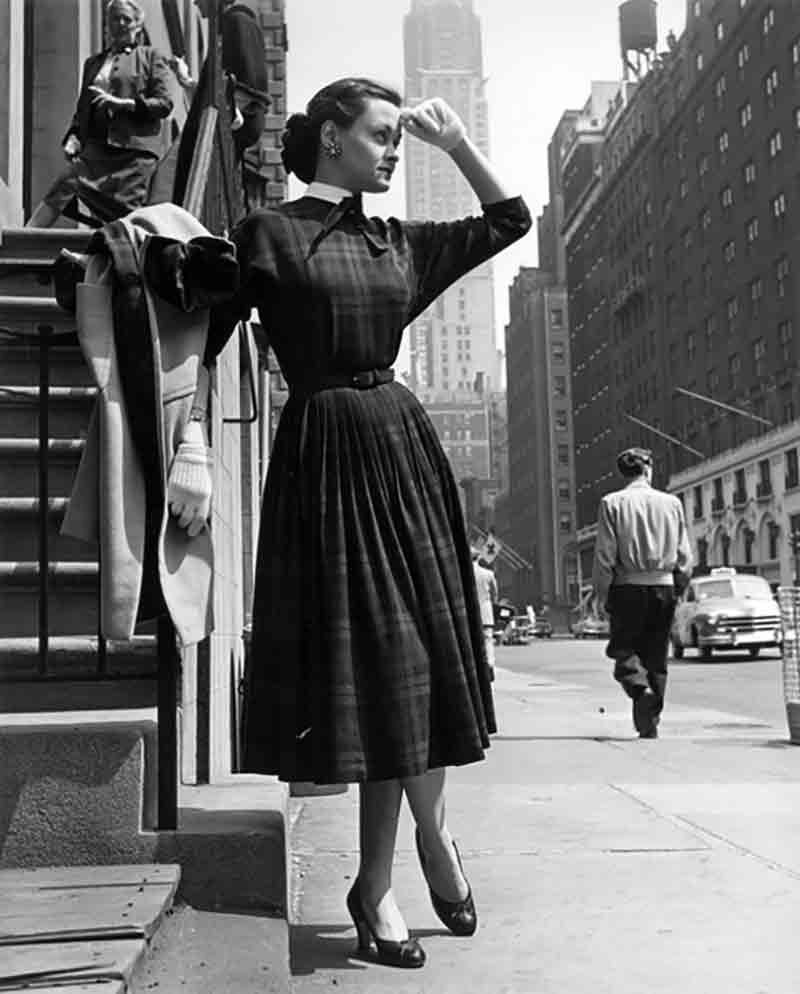 New York, 1950
An unusual idea for a fashion shoot for that time. The result is a series of unique fashion photos.
New York, 1950
Vera Maxwell, a lifelong friend of Princess Grace, was born on April 22, 1901 in New York City as Vera Huppe.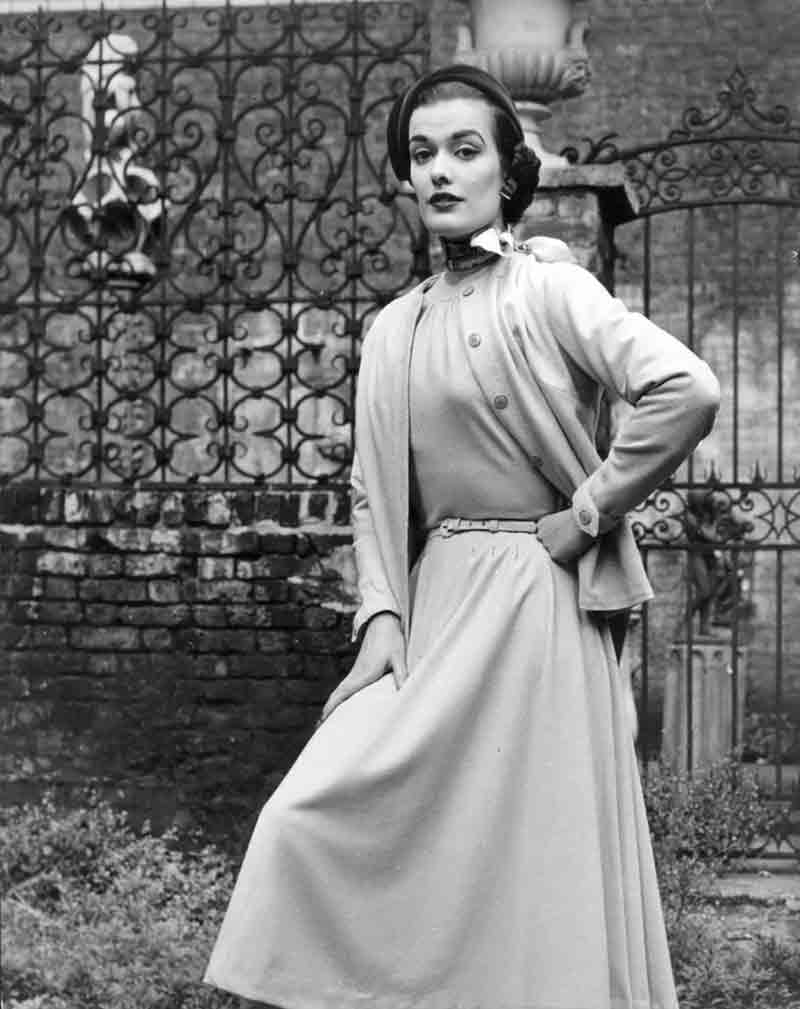 New York, 1950
Maxwell was a professional ballet dancer with the Metropolitan Opera Ballet Company Ballet for five years and in the 1930s, after a brief career as a model, she became known as a fashion designer.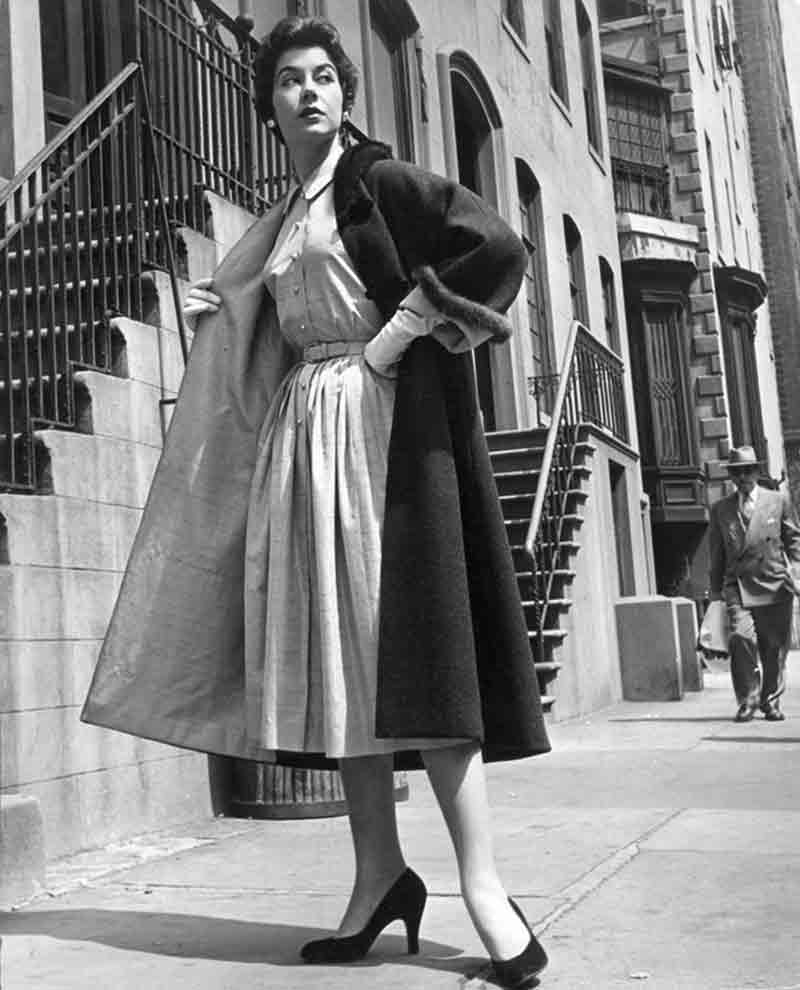 New York, 1950
Maxwell was famous for both her easy-to-wear clothes and her sportswear. In 1953 she was awarded the Coty American Fashion Critics' Award.
---
Vera Maxwell

- by Alison B. Kagamaster

Vera Maxwell was one of last century's groundbreaking U.S. clothes designers of casual wear who left her mark on the fashion world with rollup sleeves, tweeds in blended colors, and a speed suit that took seventeen seconds to slip into.

Her memoir explores life as a ballerina at the Metropolitan Opera before she delved into modeling and sketching, a job she was at first forced into when she realized she'd have to raise her small boy alone. The forthcoming memoir also brings readers into her enchanting world of Germanic upbringing, fashion forwards and celebrity friendships.

New York, 1950

Later in life, Maxwell designed frocks for friends in the entertainment world, including Lillian Gish, Nancy Reagan and the Grimaldi girls. She spent holidays abroad in the company of her closest confidante, Princess Grace Kelly. She adored the Grimaldi children and counted Prince Rainier as a dear friend. In what spare time she had, Maxwell remained close to her own family.

But it was on a fabric buying trip to Peru in the early 1950s that Maxwell chance met Peter Bock-Schroeder, the world travelling German photojournalist. What follows is a retrospective of his lens on her work and letters that give a glimpse into their lifelong friendship that began in a faraway land.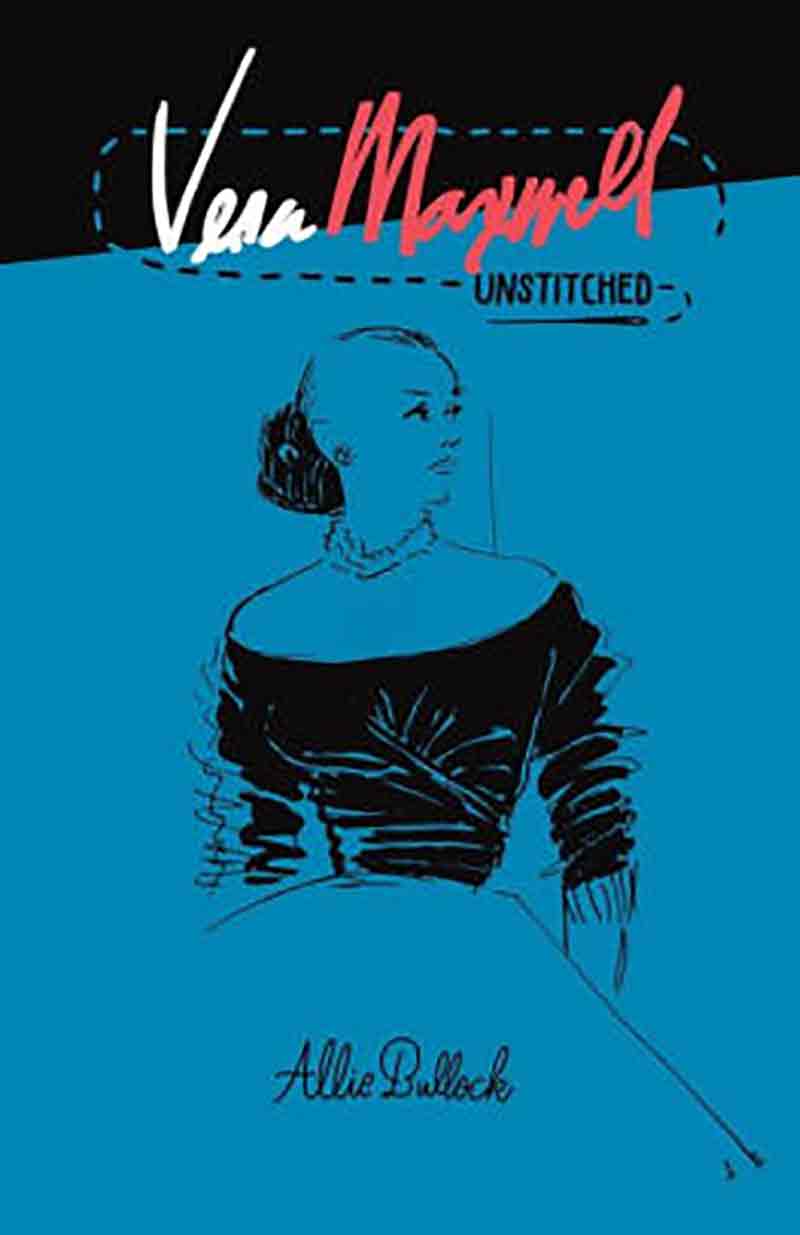 Vera Maxwell Unstitched by Allie Bullock
A recipient of Vera's kindness from childhood, Allie Bullock, whose father, Denis Bullock, was Vera's first cousin, drew from firsthand experience, family archives, and research to write this story. The author is a freelance writer, editor, and part-time journalist based in Southern California. "Vera Maxwell Unstitched" is her first book.
Paperback(Fashion Memoir Twentieth Century ed.)
Publisher: Barnes & Noble Press
Publication date: 09/16/2020
Edition description: Fashion Memoir Twentieth Century ed.
Pages: 282
Price: $ 18
BUY
---
Related Articles